Ok, so I finally made a decision on a wall clock! I don't think I ever checked Target's website (though I did check in store) in all my searching. I found this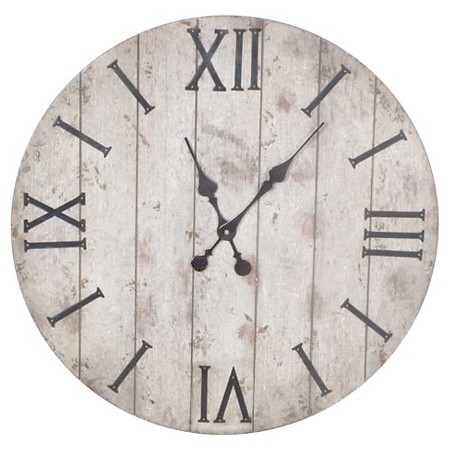 24" clock. Pretty much exactly what I wanted in style and really what I wanted in price. $37 bucks is all. Plus I threw in $13 of something else I could use to make it $50 and got $10 off my order and saved the Target red card 5%. I think that's a pretty good deal and didn't break the bank at all. Hopefully it will look as good up on my living room wall.
Here's the new guest bed we got for our guest bedroom
I'm short a pillow on one side to put behind the pillow in sham. I'll just pick up a cheap pillow next time I'm at Walmart or Target. As you can see I'm also short some wall decor! Eventually I'll get something for over the bed. Ross is a good place to find cheap wall art....as well as Goodwill :) I'm not totally digging the comforter.....I picked it up at Kohl's prior to the move, using up a $50 giftcard I had. It's ok I guess, but I do really like the bed, itself. I ordered it from Home Depot, of all places. I found it online at various stores and Amazon was cheapest but they wouldn't ship to my address for some reason, so I paid about $10 more and Home Depot had no problem shipping it UPS.